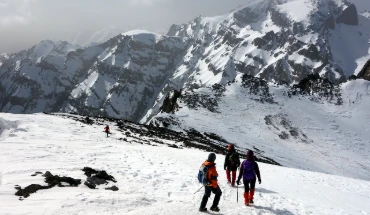 Climbing Mount Toubkal is an excellent introduction to your mountaineering adventures, taking only a long weekend to complete. North Africa may seem a world away, but it's just a short flight from Europe, making it the perfect first-time high-altitude hike.
Jebel Toubkal offers a very different experience of climbing the European Alps. Enjoy Moroccan cuisine, beautiful mountain landscapes, and warmer climates as you ascend this iconic mountain.
How high is Mount Toubkal?
At 4,167m high, Mount Toubkal, also know as Jebel Toubkal, is North Africa's highest peak. Set in the High Atlas Mountain range in Morocco, it offers a challenging yet rewarding trek - perfect for regular walkers with a reasonable base level of fitness. The critical thing to consider when climbing Mount Toubkal is the altitude, with roughly 50% less oxygen than at sea level. To overcome this, we ensure that you have plenty of food and walk at a gentler pace to give you the best chance of reaching the peak of Toubkal.
How long does it take to climb Mount Toubkal?
The Mount Toubkal ascent only takes two days, with most of the walking done on the first day.
The first day's trek takes around 5 hours. We cover 13km of gentle incline over well-defined paths, with time to take in the scenery as well as to acclimatize at the base camp at the end of the day.
'Summit day' starts with a slow walk at steep incline before dawn so you can watch the sunrise over the Atlas Mountains peaks. Total walking time from the camp to the summit and back down again takes around 5 hours along a windy, scree slope. You'll continue onto the village of Aremd where you'll stay in a village riad Dar Bab Toubkal for the night, savoring home-cooked food, warm showers, and a bed.
What is the best food for climbing Mount Toubkal?
Trekking needs lots of energy, so the food you eat is essential to get you up and down the mountain safely. Plenty of water is key. You can buy snacks along the route, but the guides also provide moroccan nuts and dates to keep you satisfied. The support team cooks up tasty meals that refuel you for the next leg, including juicy fruit and salads, fragrant tagines and a substantial breakfast on summit day. All food is prepared fresh in your camp or in the Toubkal Refuge and is ready for you when you've finished walking.
What is the weather like on Mount Toubkal?
Set in Morocco, Mount Toubkal is often considered a hot trekking destination. However, while Marrakech will range between 28°C and 37°C in trekking season, the valleys of the High Atlas Mountains are cooler, particularly as you walk higher. It's mostly dry, with very little rainfall and clear blue skies, but it can be misty as you move up.
For the more adventurous climber, you can also climb the mountain in winter, enhancing your winterhiking skills as you hike through the snow.
In winter the temperatures at night can drop to around -8°C, while in summer they stay at 15°C on average. Try to wrap up warm, with fleeces and liners, in the colder months or take lighter layers you can easily take off in the warmer months. Whatever the time of year, a good quality sleeping bag is a must.
What should I pack to hike up Mount Toubkal?
Packing correctly is essential to making the most of your trek. Pack for any dietary requirements and remember to bring a refillable water bottle.
As the summit day starts before sunrise, a hat, gloves and a down jacket are essential to keeping warm, though layers are also helpful. There is one night without access to electricity, so a power bank may be useful. The mules will carry any extra gear up the mountain such as wash bags, night clothes, and sleeping bags.
If you'd like to stand at the top of North Africa in Morocco, take a look at our Mount Toubkal Long Weekendtrek.