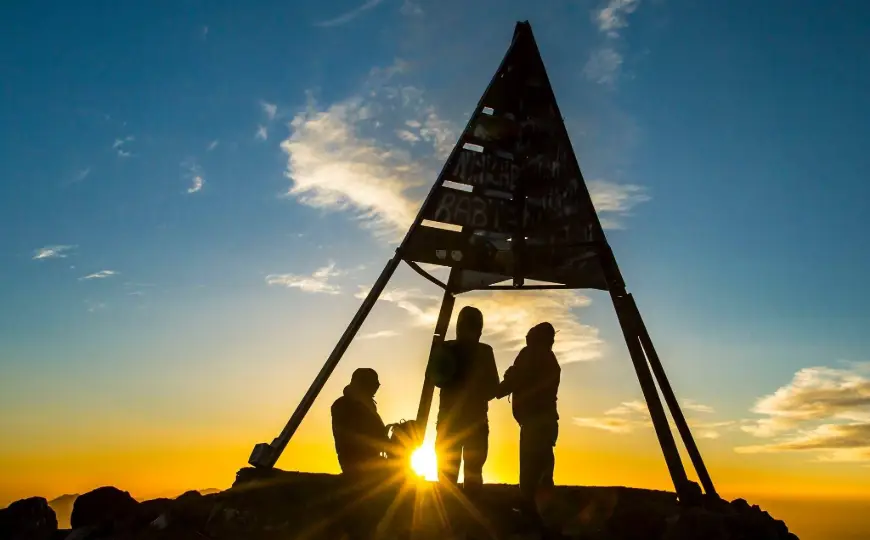 Whats the best time to trek atlas mountains ?
Regarding Toubkal climbing seasons, You can trek in Morocco Mountains throughout the year depending on the region. The Atlas Mountains has tremendous variation in climates due to the vast differences in altitude. The low land plain are sub tropical (600-1200m), the midland hills are warm temperate (1200-2100m) and cool temperate( 2100-3207m) and the high mountains are Alpine (3207-4167m). Mid of April to mid of October is considered the best time to trek in the Atlas Mountains.
Toubkal climbing season : Autumn (September-November)
Autumn is considered the best season to trek in the Atlas mountains of Morocco. You can experience better visibility of tantalizing mountains, green hills and excellent weather. Weather is generally clear with mild to warm days and cold nights. The possibilities of natural disasters diminish, making it a safe season to trek.
Toubkal climbing season : Winter (December- February)
The Atlas Mountains region freezes over and the snow falls. Trekking can be challenging in the higher altitudes because the trail can be covered with snow. The temperature of the Atlas Mountains region will be up to -16 degree Celsius, hilly regions 0 to 5 degree Celsius whereas in plain regions 10 to 15 degree Celsius.
Toubkal climbing season : Spring (March-May) <Good Season>
The blooming flowers, lush greenery, and sparkling mountains make it an excellent background to spring trekking. Spring feels like a delight with singing birds, beautiful views and abundant wildflowers. Weather will be mild at lower elevation but cold at higher elevation. In spring, mornings are usually crystal clear. However, Sometimes in the afternoon clouds bring rain showers.
Toubkal climbing season : Summer (June-August)
In summer, this season is considered one of the gorgeous seasons during the year in which you can trek in all the atlas Mountains of Morocco.You have the possibility to climb higher picks, trek around Berber villages and natural spaces as well.Therefore,the views are extremly fabulous that left memories unforgetable. The weather is warm during the day and a bit cold during the night. I would say that summer is the best time for trekkers and researches.